Still no knitting content in this one, but I think we will start the trip down memory lane with dorms (OK in politically correct lingo they are now residence halls.) I was a bit of an oddity on campus since I lived in the dorms all five years I attended Miami. I couldn't see the attraction in living off campus where you had to cook for yourself and clean your own bathroom, but that was just me.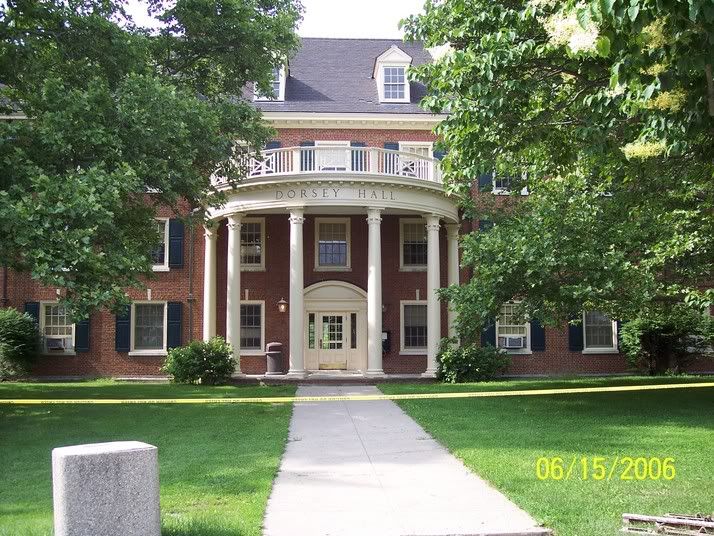 Freshman year I lived in Dorsey Hall. It was an all female dorm on Eastern Quad and I lived on the second floor in the "alley" (the connecter part between the two wings). I've heard a rumor that Dorsey is going to be "deconstructed" (that's Miami speak for demolished) but I don't know if it's true or not.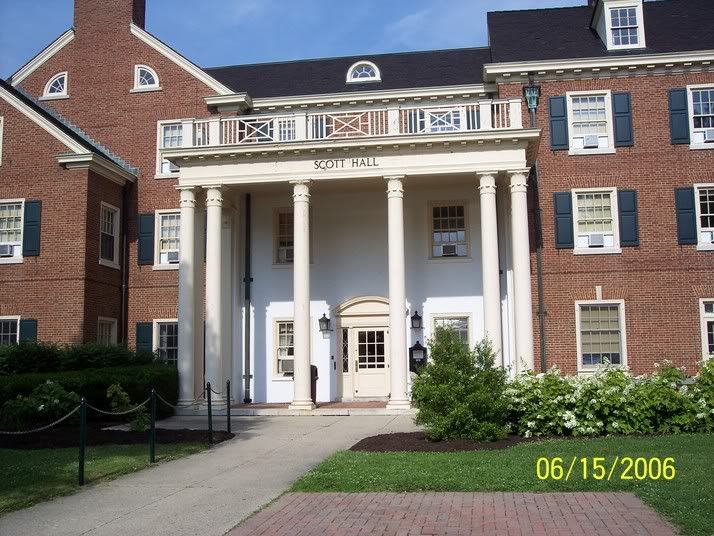 I lived in Scott Hall (on the Central Quad) for a year and a half. I liked the hall and it was a great location, but let's just say that I did not have great roommate situations while I lived there. Of the three that I had one of them was fantastic. We shall leave it at that! Scott was a co-ed hall and had the added benefit of housing a dining hall for the quad.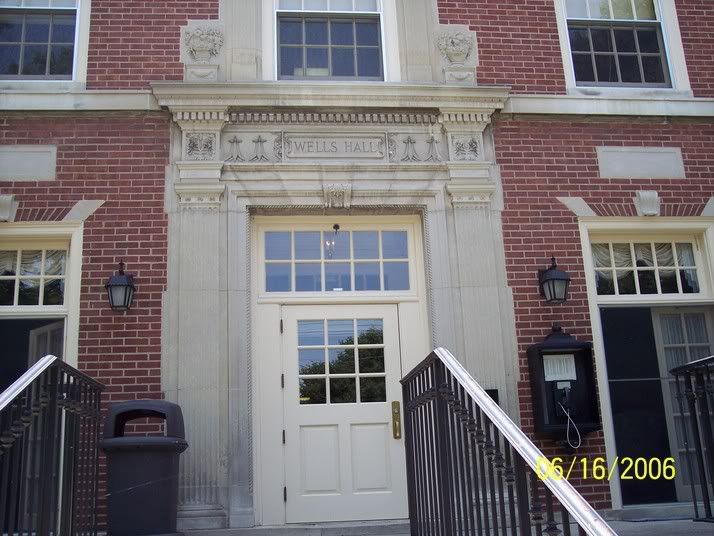 After I moved out of Scott, I moved into Wells. This was a fantastic hall with some of the highest ceilings I have ever seen. I had the greatest roommates when I lived there (in fact we still keep in touch). The first six months I lived there, my roommate and I had a room next to the French doors that led out to a little rooftop balcony. The memory is fuzzy but I'm pretty sure residents were not encouraged to go out there. The next year we had a triple with a private bathroom (and I had the single room in the triple which is a good thing since I was the sloppiest). Wells was also a fantastic location for me since I was literally across the parking lot from the building that held the majority of classes for my major.
My senior senior year (what I like to call year five!) I lived on Western Campus in Havighurst (for some reason blogger doesn't want you to see my lovely picture of Havighurst. Either we'll try again later or stick it in another post). Havighurst was one of the newer dorms and had the benefit of being air conditioned. It was also close to one of the places that took up a large portion of my time, Sawyer Hall, home of
The Miami Student
and
The Recensio.
The Student is the school paper and that was the year I was hockey reporter and sports editor. The Recensio is the yearbook and I did cover some sports for them as well. We were stuck over there when they decided to remodel The Shiver Center (The Res to the truly politically incorrect among us). Sawyer was literally the farthest location you could be in and still be on campus. For some reason we thought the administration didn't care for us!
I was able to see the Student's new digs and they are MUCH nicer. They are in the basement of their building but at least you don't need a map to find them!