Well it wouldn't be my blog if there wasn't at least one picture of my dinner every once in a while. This time we get TWO dinner pictures (can you stand the excitement???).
While I was in NYC I managed to have some really good meals and one VERY VERY expensive hamburger. We'll start with the burger - after my first full day in NYC I was too tired to go back out and find somewere to have dinner. The hotel restaurant wasn't open for dinner that night so I got room service. What we have here is the most expensive burger I've ever had. By the time they added all of the room service charges on, my bill was almost $42.00!!!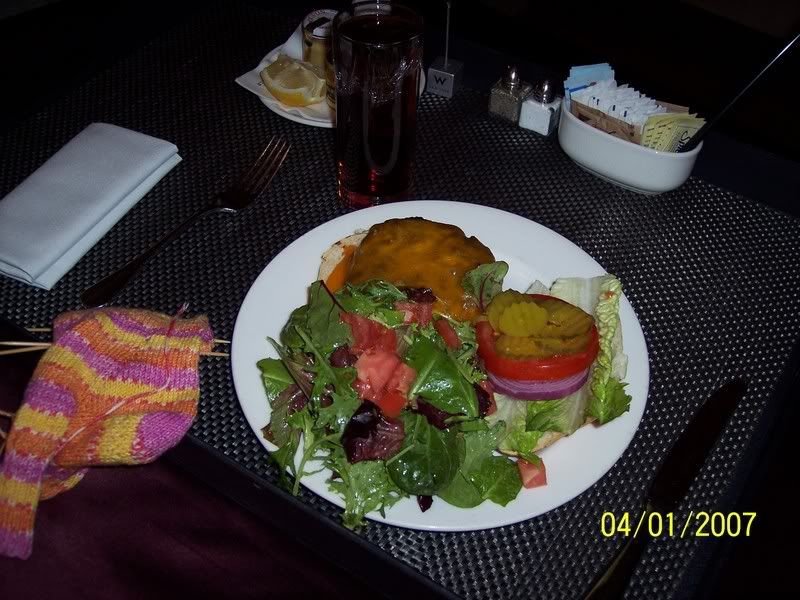 It was a good burger but I must say I wouldn't consider it $42.00 worth of good.
On my last night in the city I went to this little sushi place that I could see whenever I looked out my hotel room window.
I had the sushi box dinner and it was AWESOME!!!
It came with sushi, tempura, sashimi and teriyaki chicken. I got to sit at the sushi bar so I got to watch the sushi chefs making all of the sushi. If I had known how great the food there was I would have dragged myself over there for dinner after sight seeing instead of getting the room service burger.
I also had a phenomenal meal at Dawat restaurant. It's an Indian restaurant owned by Madhur Jaffrey (she's ther person that Martha Stewart has on her show when she wants to talk about Indian food). I had the Rogan Josh which is normally made with lamb, but at dawat they make it with goat. It was a really good meal and I even had dessert - gulab jamun..... YUMMY!!! No pictures of this one though.